Meet Bianca Marshal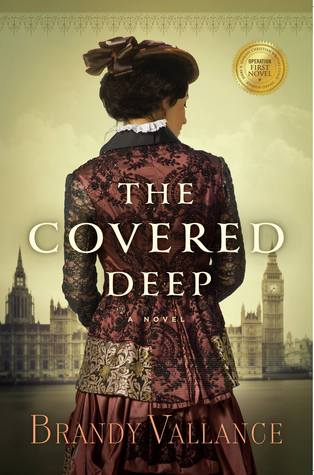 While reading The Covered Deep, I really liked the heroine Bianca Marshal. I could totally picture he and when I had the opportunity to interview her, I jumped at the chance.
CFA: Hi Bianca. I am so excited that you could join me here at Christian Fiction Addict. What do you
think of our modern technology?
Bianca: My goodness! I never would have imagined such things were possible! I thought hot water on
the second floor was advanced. *Bianca continues to glance around in awe*
CFA: Like many of us, you are a romantic at heart and a lover of books. What is your absolute favorite
book?
Bianca: Great Jehoshaphat! Can you choose just one? If so, that would be quite a feat, for I know
you are a voracious reader as well. Perhaps we should discuss genre. Then I might be able
to answer adequately. I know! *secret smile* My favorite book is Paul's book on the Italian
Renaissance. When he gave it to me, I was so overcome . . . *blushes* You know why.
CFA: Bianca, please remind me to introduce you to Brandy Vallance. She is a modern author and I am sure you would just love her work. ;)
CFA: Now having traveled to our present day (the future for you), do you prefer the future, your
present or would you go back in time if you could?
Bianca: Although your time is wonderful, there's quite a lot of noise. I do believe time travel is most
appealing. Egypt in the time of Moses, perhaps. Or maybe the Palace of Versailles in the
time of the Sun King . . . Wouldn't it be something to meet Mozart? Or Shakespeare?
CFA: I agree. Biblical times have always fascinated me. I would love to go back and meet Jesus in the flesh. Speaking of which...
CFA: Do you plan to revisit The Holy Land?
Bianca: What an interesting question. A certain someone and I have talked about it. *dramatic pause* Perhaps Paris is
a better idea.
CFA: Oui Oui, La la. The home of the Louvre.
CFA: Have you been to any museums lately? Which is your favorite and why?
Bianca: Being as how I live in London now, I was able to visit the South Kensington Museum just
last week. I wandered there for hours and hours. To be so close to history . . . There's just
something about standing inches away from things held by emperors, kings, and queens. Of
course, the British Museum will always hold a special place in my heart. And I do admit that it's
my absolute favorite museum in the world. But that might have something to do with a certain
someone who works there.
CFA: International gal. Sounds like an adventure.
CFA: I think you a brave woman Bianca. What is one of the scariest things you have had to endure,
other than what happens in the book? I don't want to spoil it for those who have not had the opportunity read it yet.
Bianca:
One of the most frightening things I've ever had to
endure was seeing my country torn apart in the War of Rebellion. I was just a girl then, but
some things you never forget.
CFA: That must have been scary. We are so grateful for our military. War still plagues us, but we are fortunate to not have to endure it on American soil as you and your family have.
CFA: How are your parents getting along these days?
Bianca: Well, there's talk of them moving to England, actually. If Daddy can convince Mama.
CFA:
She'll be living in London in no time.
Your dad has a way with words. I am sure that is one of the reasons you love him so. Speaking of love...
CFA: Any love advice for those looking for a handsome, humorous, Christ-believing, Bible quoting
foreigner that's a great kisser and will adore her?
Bianca: Sigh... Pray like there's no tomorrow. As evidenced by my journey, those kind of men aren't
easily found. Don't settle although everyone will try to convince you to do otherwise. You'll know
him when you see him—it might be something about his voice, or maybe the way you interpret
a thousand things in his eyes. Mostly, hold on to Psalms 37:4, "Delight thyself also in the Lord:
and he shall give thee the desires of thine heart."
CFA: Wise words. Lastly, For all of the young women and maybe those who are not so young anymore, like me,
what advice do you have about going after you want and achieving goals?
Bianca: When you have been redeemed by the One True Living God, there's nothing you can't conquer.
God makes the impossible, possible. Everyone's afraid, but they'll rarely admit it. Sometimes
fear is only the first doorway to our destiny. When I stepped on that ship in New York Harbor,
you can bet your boots I was trembling. But I wanted God's best for me, and I think that has to
be fought for.
CFA: Thank you so much Bianca. I am so happy to have met you.
Bianca: *Curtsies* It was my pleasure. Now, do you have any notion about how to get back to 1877?
There's someone I'm missing desperately.
a Rafflecopter giveaway